Studying with a child – is that even possible?
As a parent, it is often not easy. In addition to everyday work and everyday stress, there is an additional increase in time through the offspring . Between leisure activities, everyday tasks and work, the child is of course always in focus. This brings with it many wonderful times and memories – no question at all! But if you want to continue your education or start studying in the meantime , you will quickly feel overwhelmed. Where did the time come from? How do you do it all? Do you have to move extra for that and doesn't the education go by the wayside?
"Moving to another city, writing exams and looking after the youngsters at the same time? It never works. "But do not worry: in order to complete a course of study and to obtain a Bachelor's degree as a parent , the course does not have to be completed using the classic method. Distance learning definitely gives you other options and ways that we would like to introduce to you below.
Study flexibly through distance learning
The solution to this can be very simple: how about a distance learning course? This is state-recognized, accredited according to current standards and of exactly the same high quality as if you were doing your bachelor's degree at a university on site.
With a distance learning course with a family, you have very few disadvantages and a lot of advantages due to your new flexibility .
Studying with a child: the advantages of distance learning
Let's talk about the advantages of a distance learning course , which is particularly significant with a child at home.
You are completely flexible in the design of your studies .
You can learn when you want.
You can take exams whenever you want.
You are not tied to any location and can do everything from home .
You can plan your studies around work and around the time with your child. If your child is sleeping in the evening, or is in kindergarten or with grandparents, it is ideal to learn.
Thanks to digital learning platforms and quickly accessible content, you can also acquire expertise on the go. Be it in the waiting room, during lunch break, on the train, in the evening with a laptop in bed or on vacation.
With online exams you are also not bound to any fixed exam times. These allow you to easily write your exams from home. The online exams can also be registered and written on demand . So you don't have to schedule them days in advance (of course, you should still know when you want to take your exam so that you can plan enough time for your studies).
In distance learning, you can also get in touch with fellow students via Facebook, WhatsApp and your provider's intranet . Many of them are in the same situation as you. These can be used to exchange experiences around the organization and planning of your distance learning . Many tips can be exchanged with each other .
Distance learning is so popular with many people with children precisely because it offers the advantages mentioned above. You can be sure that fellow students with offspring will definitely be enrolled in your degree program.
Markus von Fernstudium-Infos also summarized the most important advantages of distance learning with children in a video :
Financial aid for studying with a child
However, we must not neglect an important topic here: As a student parent, financial problems or various bottlenecks are a problem . Since the apartment, food, the child, contracts and insurance, as well as the study itself cost a lot of money, one should not underestimate the additional financial burden during distance learning with a child .
It is an advantage if you are subsidized by parents and grandparents, but this is not the only option. The state supports parents with some financial means during their studies.
Child benefit: Anyone who lives in Germany and has had children can apply for child benefit from the birth of the child. All that is required is the child's birth certificate. The child benefit can either be paid directly (currently this is 192 euros per month for the first child) or as tax relief (allowance).
Parental allowance: Parental allowance is an interesting option, especially for students with children. The amount of the parental allowance depends on your own income. The purpose is to replace part of the lost salary or wages (due to less working hours). Anyone wishing to receive parental allowance must therefore not work more than 30 hours a week. Parental allowance can be applied for for 12 months.
Childcare allowance: If you do not use childcare or day care facilities, you can apply for childcare allowance after the parental allowance. This has been around EUR 150 / month since August 2014 and can be paid out up to and including the child's third year.
Child allowance: If there is a problem with a child regarding the size of the apartment, a monthly child allowance of 170 euros can be applied for, which will be deducted from the child benefit.
Advance on alimony maintenance: In the case of a single parent who does not receive regular maintenance from the other parent, the alimony advance is an option. This is 150 euros per month and can be requested for children up to 6 years.
Maternity allowance: The maternity allowance is an offer from various health insurance companies that offer financial support for all mothers who were previously insured (not co-insured with the parents) from six weeks before the birth up to eight weeks after the birth. The amount of this money is determined individually depending on the health insurance company and must be requested from the same.
Financial support from foundations: Depending on the individual case, distance learning with a child can also apply for funding from various foundations. Here, however, it is considered on a case-by-case basis whether and how much money you get. Well-known foundations are the Konrad Adenauer Foundation, the Federal Mother and Child Foundation and the Heinrich Böll Foundation. (We have linked these, just drop in and ask if necessary without obligation).
Studying with your child as a single parent: Tips & information about distance learning
As a single parent, there is often a lack of time and funds to successfully complete a distance learning course. For the period of study, it should be considered that children who are short of time are often to be accommodated with grandparents, parents, siblings, relatives or close acquaintances. It doesn't always have to be hours, but regular breaks that are used for learning work wonders and can make everyday life significantly less stressful.
If there are not enough options here, childcare or daycare for the child should be considered.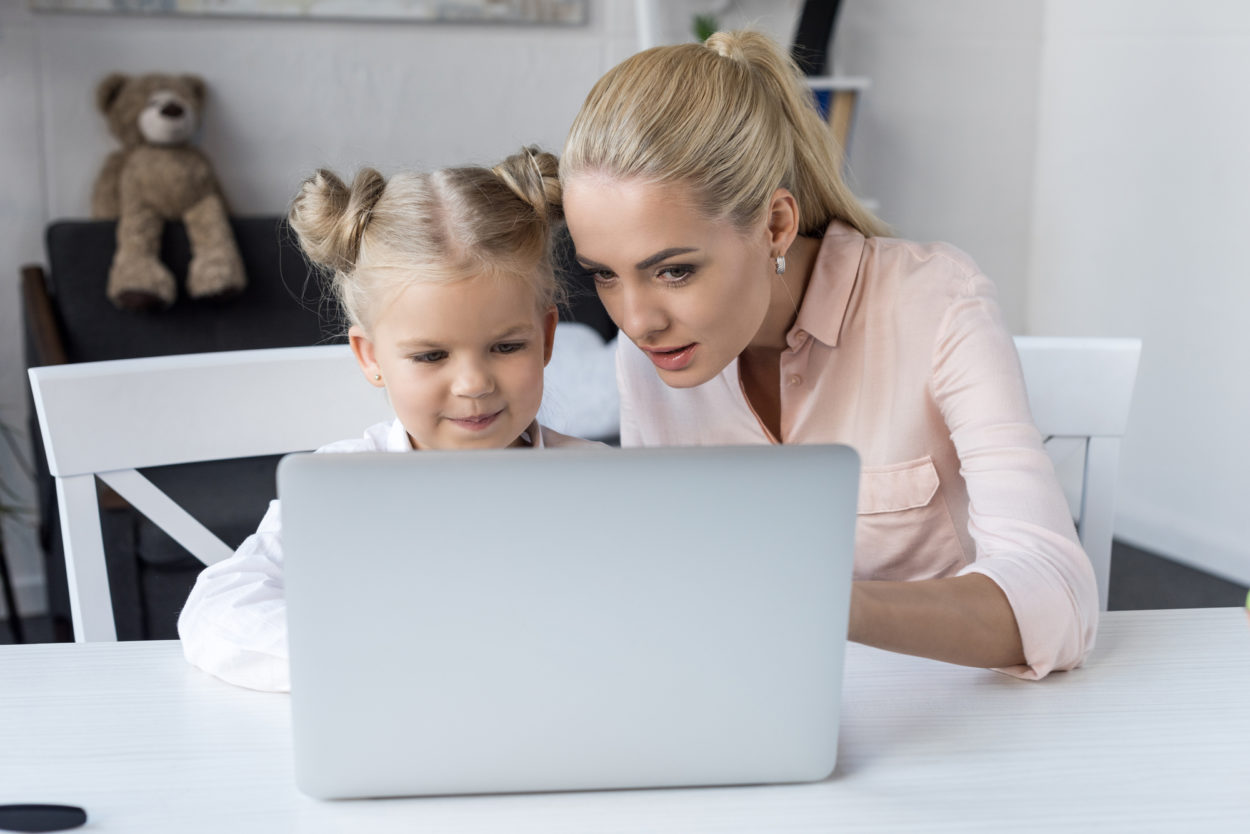 In the case of financial problems, related parties can primarily be asked for advice or a "small loan". Otherwise there is financial support from the state for single parents – we have already listed the various options for this in a paragraph above. The relevant authorities should simply be asked here to receive financial support depending on their current life situation.
Distance learning with a child: which university is suitable for this?
In general, it depends on what you want to study and which course of study is offered at which university . Since I study at the IUBH myself, I can definitely recommend it in terms of absolute flexibility – which is also required for a child. No matter when, no matter where: the degree can be completed anywhere and at any time. The individual courses and modules can also be determined in an individual order. The distance learning can be ideally adapted to and around the child – also through many stories by some of my fellow students who are also parents .
With over 20,000 students, the IUBH is one of the leading distance learning universities in Germany. Online exams were introduced here as the first distance learning university in Germany , so that every exam can now be written entirely on a laptop – within one's own four walls.
Also, not all exams of a semester have to be written within 2-3 weeks. It is advisable to write the exams month by month (one exam per month, with 6 exams per semester). The time spent remains manageable. I have already summarized the best advantages and the most important differences between distance learning and normal studies in a separate article .
How the distance learning at IUBH works in general and what personal impressions I could take with me, I described in more detail in my IUBH experience report .
Distance learning with children: Different time models at the IUBH
Another advantage: distance learning at IUBH does not have to be completed within a specified period. There are different time models offered that with every degree program adapted to suit individual requirements can.
The full-time course comprises 3 years, the "part-time 1" model can be completed in 4 years and the "part-time 2" model can be completed in 6 years. The course is only a little longer here, so that you have more space between the exams. For a 40-hour week with a child, for example, I would not recommend the full-time option.
The extended period of study also affects the costs, which then become a little less per month for the part-time models. The part-time option is also recommended for financial problems.
Request information and register for your studies
Do you have children and are you interested in studying at the IUBH? Then click on the following link to get non-binding information material or to enroll directly in a course. A little further down you will find a few further links from the IUBH, in which the university again deals with many topics relating to " studying with children at the IUBH "